After an intensive day at the Flowa Helsinki HQ on last Friday, I was getting ready for my first Startup Weekend experience.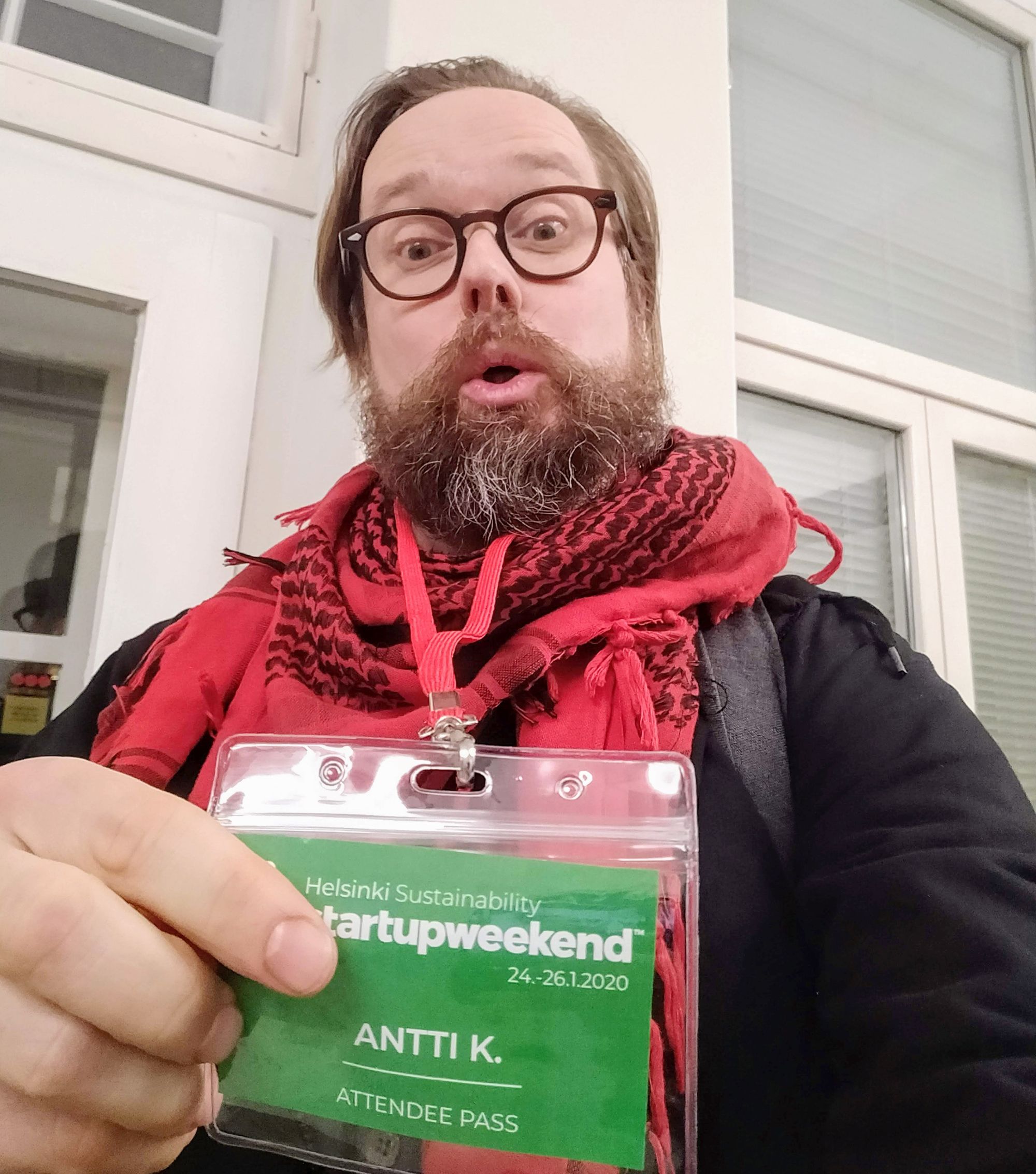 What if it will be a waste of my time?
At that moment, I realised a worry popping up in my head: what if it will be something else than what I hope it will?
List of my worries at that moment:
What if the other participants wanted something else from the weekend than me? Something that would be in odds with what I expected?
What if I would have conflicts with my team about preferred ways of working?
Would the competition format even be aligned with my expectations?
What if it would be a waste of my time, essentially?
The event and my expectations
The Startup Weekend event in question was Helsinki Startup Weekend Sustainability edition organized by Techstars and LaureaES, sponsored by Google, OP, Maria01 and Epicenter Helsinki.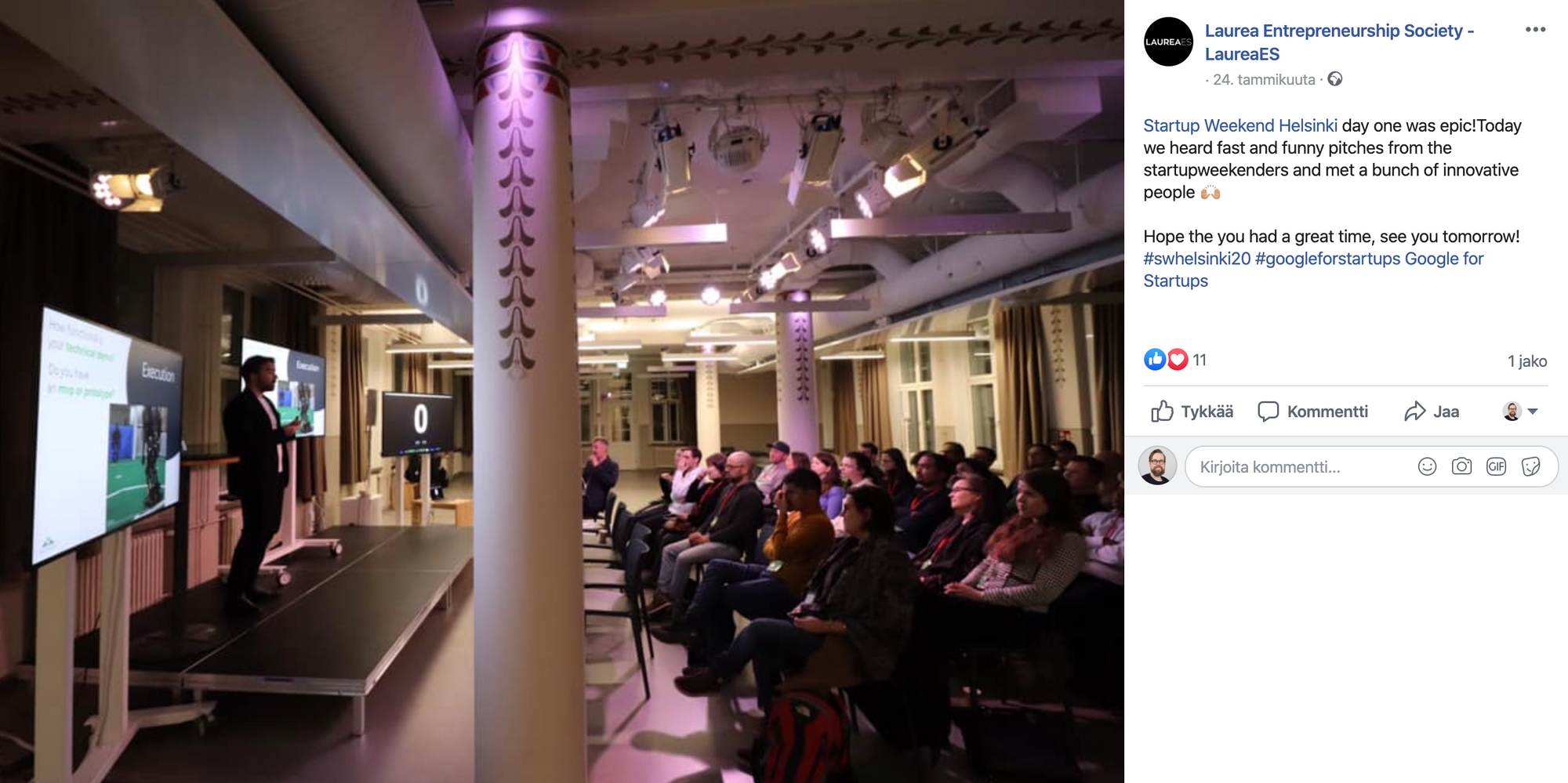 My expectations were to make some new connections in the sustainability space and learning something new. Something that would accelerate my exploration into the impact business field.
My expectations were met and exceeded. I was positively surprised about how great and beneficial the whole weekend was for me.
Amazing Team
First, a shoutout to my awesome Ilo Assist (/ T-Bot / Mpath / Teapath) team: Noah, Antti H. And Vici! I met all of them for the first time at the Startup Weekend. I had an awesome time with them!
Not to forget Ilo, the smart assistant we concepted during the weekend.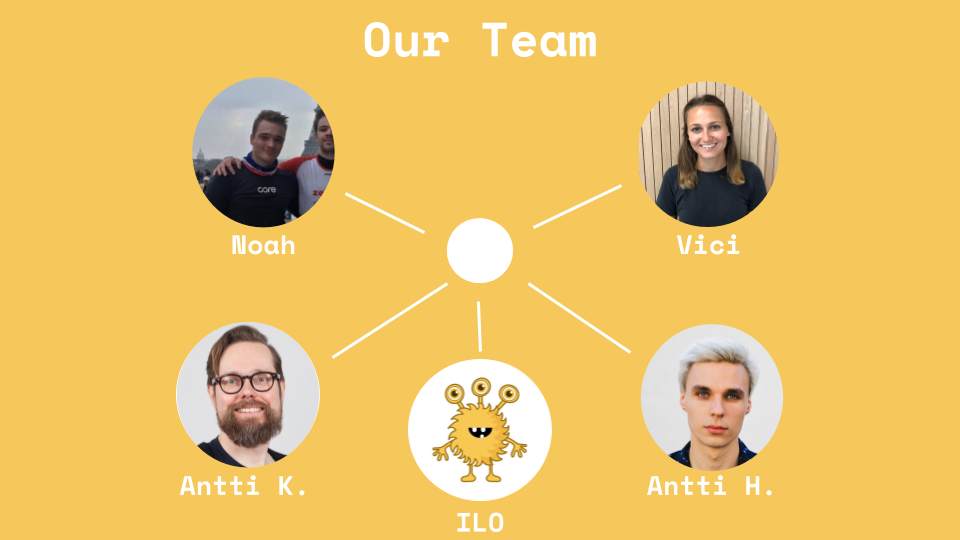 I'm sure that there will be plenty of startup CEOs and investors who will be very happy if they manage to get any of my team members in their roster, whether as part of their company or by investing in their up-coming startups.
What does amazing teamwork consist of?
Immediately after forming our team, we started noticing signs of good team chemistry:
After making an suggestion, one of us would check from everybody else what they thought and what other related ideas they might have,
voicing own preferences of how to work, and then asking others about theirs,
negotiating artfully when there was disagreement about how to proceed (negotiating the tension of rationalising one's own preferred option and listening to others' views to make a good decision fast) and
taking care of own and others' sustainable pace of work (we took two long walks outside on Saturday).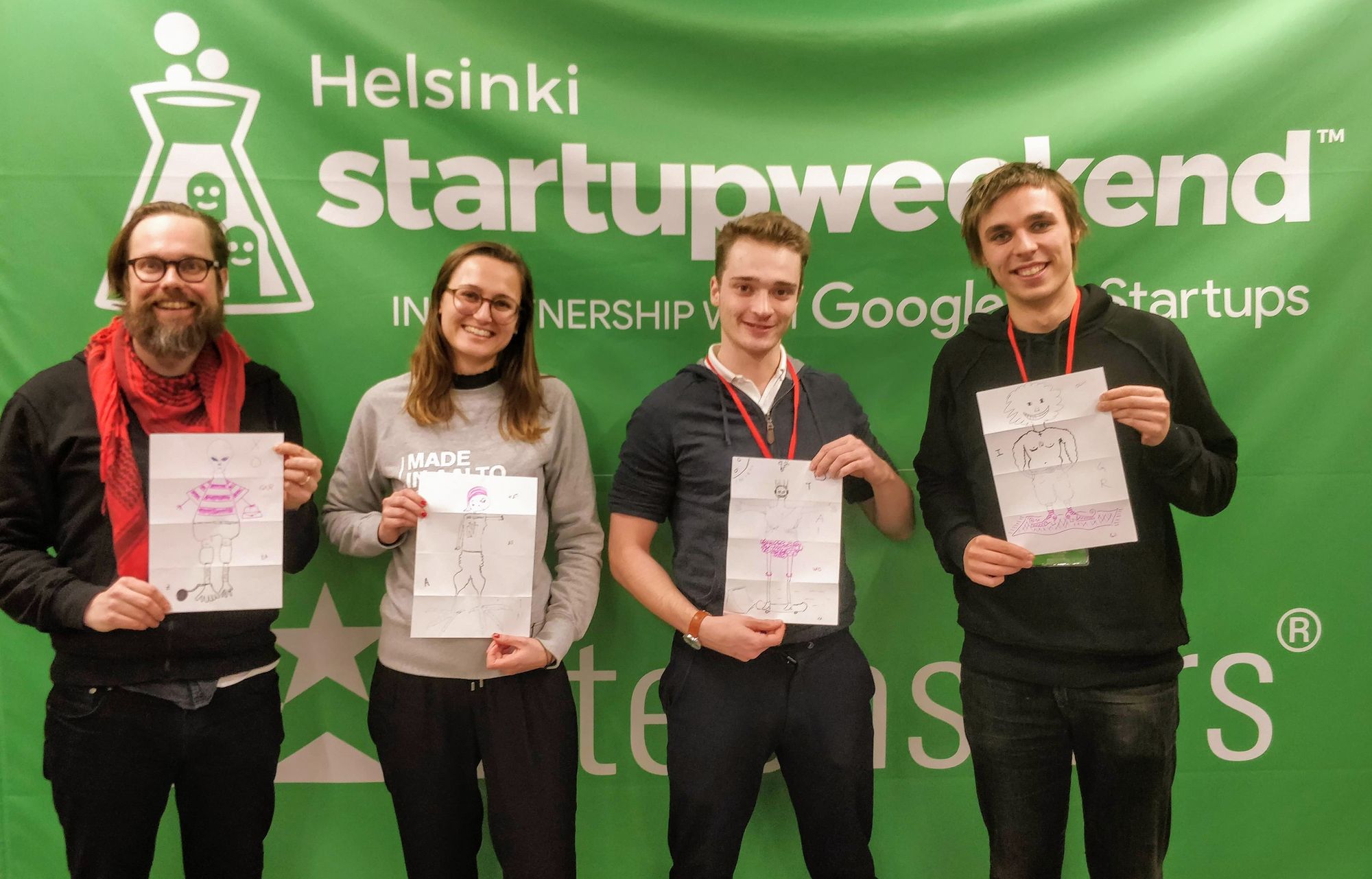 Looking back, this was a text-book example of MIT's Anita Woolly's team's findings on features teams having a high collective intelligence:
Social sensitivity of team members,
Equal distribution of conversational turn-taking and
Moderate variance in cognitive styles between team members.
I feel we also had psychological safety in our team, which was added in the Google Aristotle research as an additional feature of teams with high collective intelligence.
Psychological safety means I feel like I can ask for help, say if I don't know or understand something.
Accelerated Concept Evolution
Good teamwork sounds nice, but did it amount to any results, I hear you ask :)
The short answer is that the original concept idea we had matured a lot through accelerated evolution during the weekend. And we ended up tied for second place in the pitching competition.
It was my pitch that brought us together as a team. The idea I pitched was to help people have better online meetings to reduce their need to fly offsite or to partner sites, thus reducing carbon emissions for business flights. My idea for a solution was an online learning solution (so pretty vague at that point).
My idea was one I have had in my back pocket for about a year. One of those ideas that have appeal, but you are not quite sure if it would be viable, or the one single thing you are passionate to make true.
Problem/Solution Fit
The first step of evolution we made to the concept was to clarify the problem/solution fit hypothesis. Luckily we had many people with us in the Startup Weekend who travel regularly to meetings, and based on their feedback, we were able to identify lack of human connection and inability to build trust as a main weakness of current video conferencing solutions.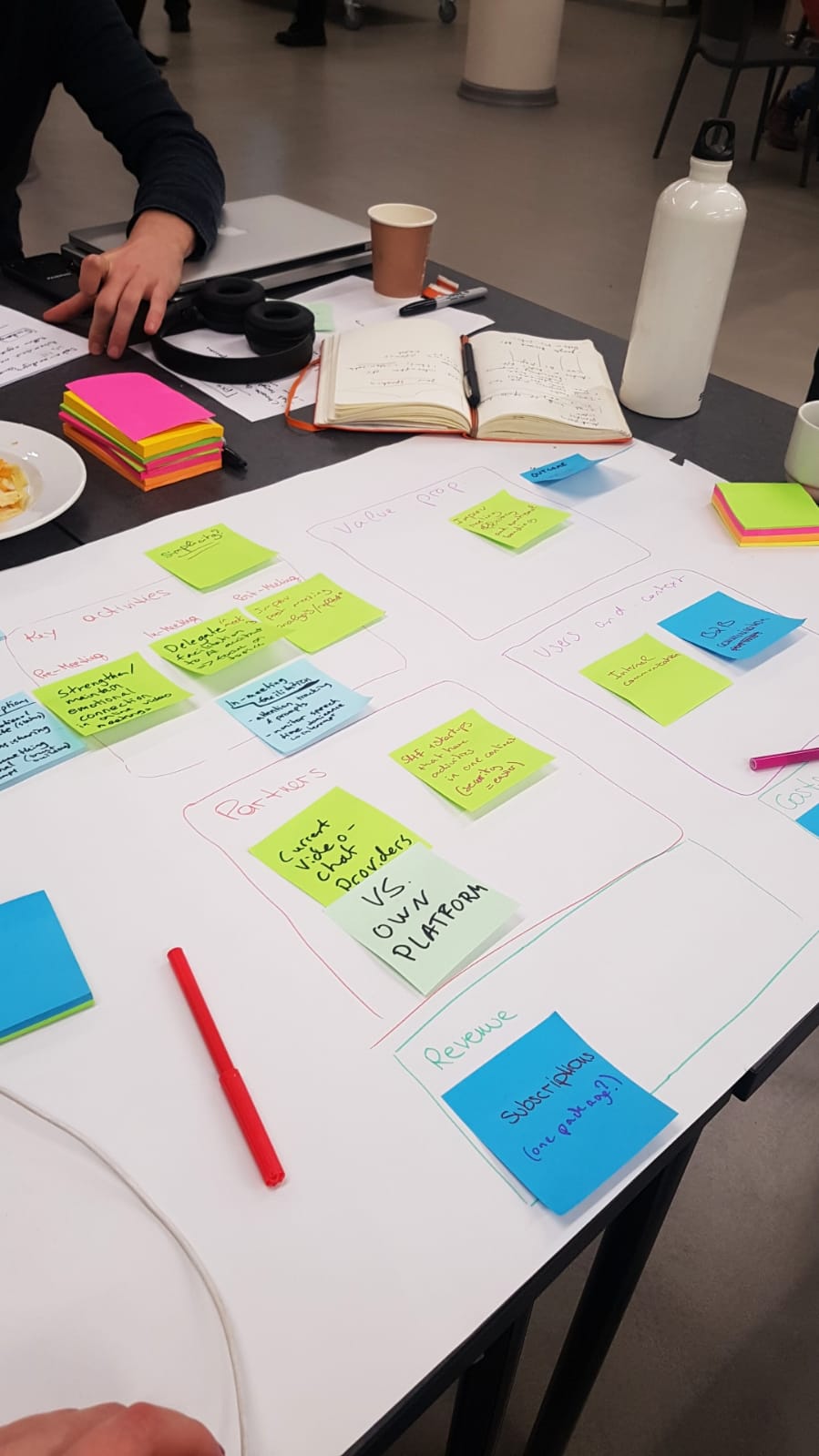 At first, we thought that maybe that is something we cannot fix with a scalable solution. After some discussion and exploration, we found out that we should not be discouraged so quickly. We came up with a concept of Ilo, a smart assistant who joins video conferences and helps with empathy, connection-building and fostering trust.
We also managed to compile a fairly convincing argument for technical feasibility by researching competition and similar products for other uses as well as looking at the developer tools video conferencing product companies provide.
Even quicker validation than I thought possible
Before the weekend I was skeptical about the amount of real validation we could achieve during the weekend. I imagined wanting to work on a B2B product, and all the B2B people enjoying their weekends with their families offline.
Turns out I was wrong. I already mentioned that we were lucky to reach potential early adopter demographic in the Startup Weekend crowd.
In addition to that, we hustled and got help from mentors to reach out to a larger number of potential early adopter segment through:
Slack community I belong to with 1500 members consisting of coaches and consultants,
Reading questions about online meetings and video conferencing challenges on Quora and
One of the mentors introducing us to a Slack community of remote workers (thank you Juhis Santala!).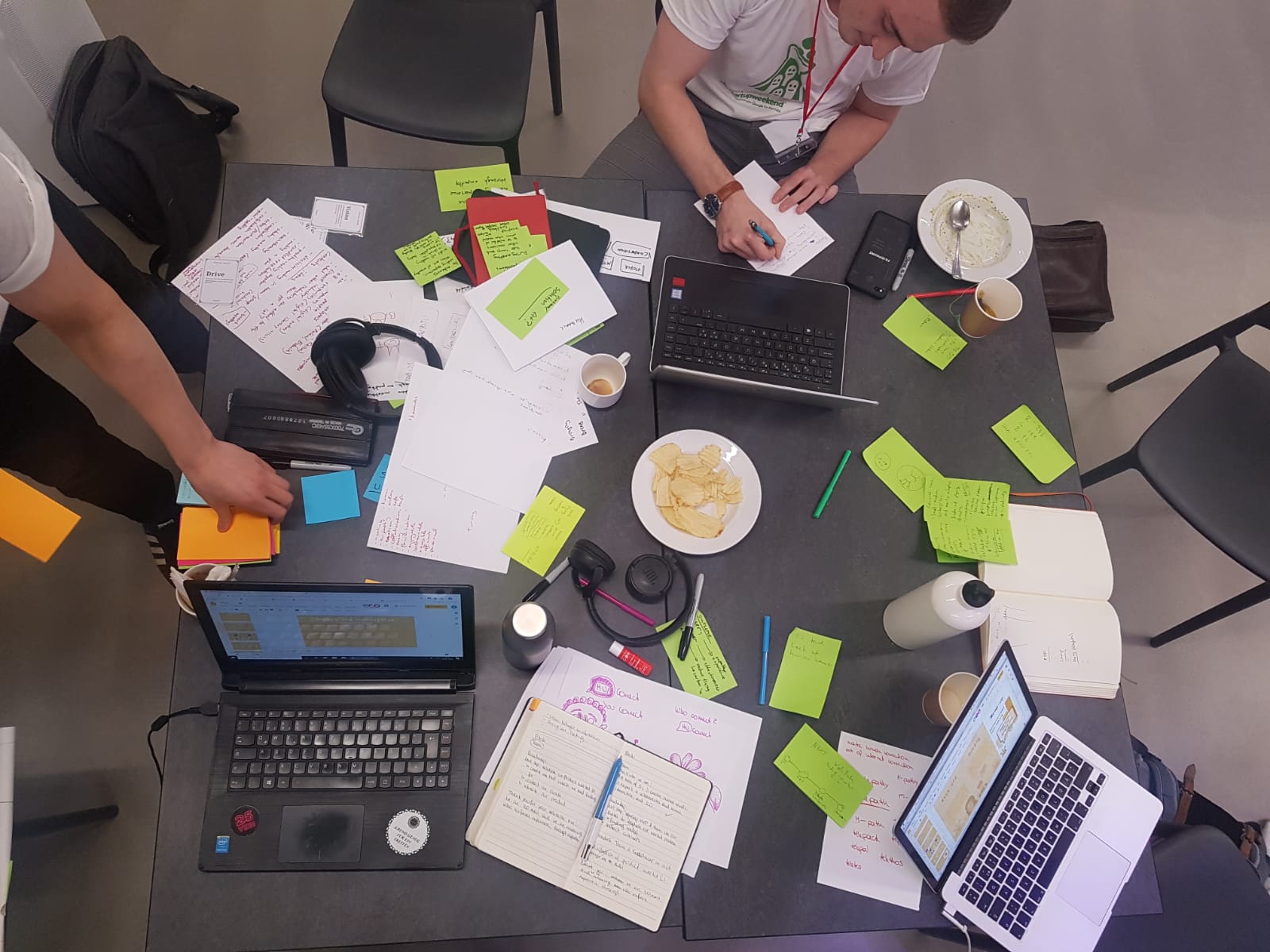 We sent out a survey about our problem/solution fit and pricing through those channels and managed to get 50 answers!
And better yet, we could turn those answers into fairly valid arguments supporting our concept and business model for the pitch.
Kudos to mentors
Helping with reaching our early adopter segment was one of the things our mentors helped us with. But it was not the only one.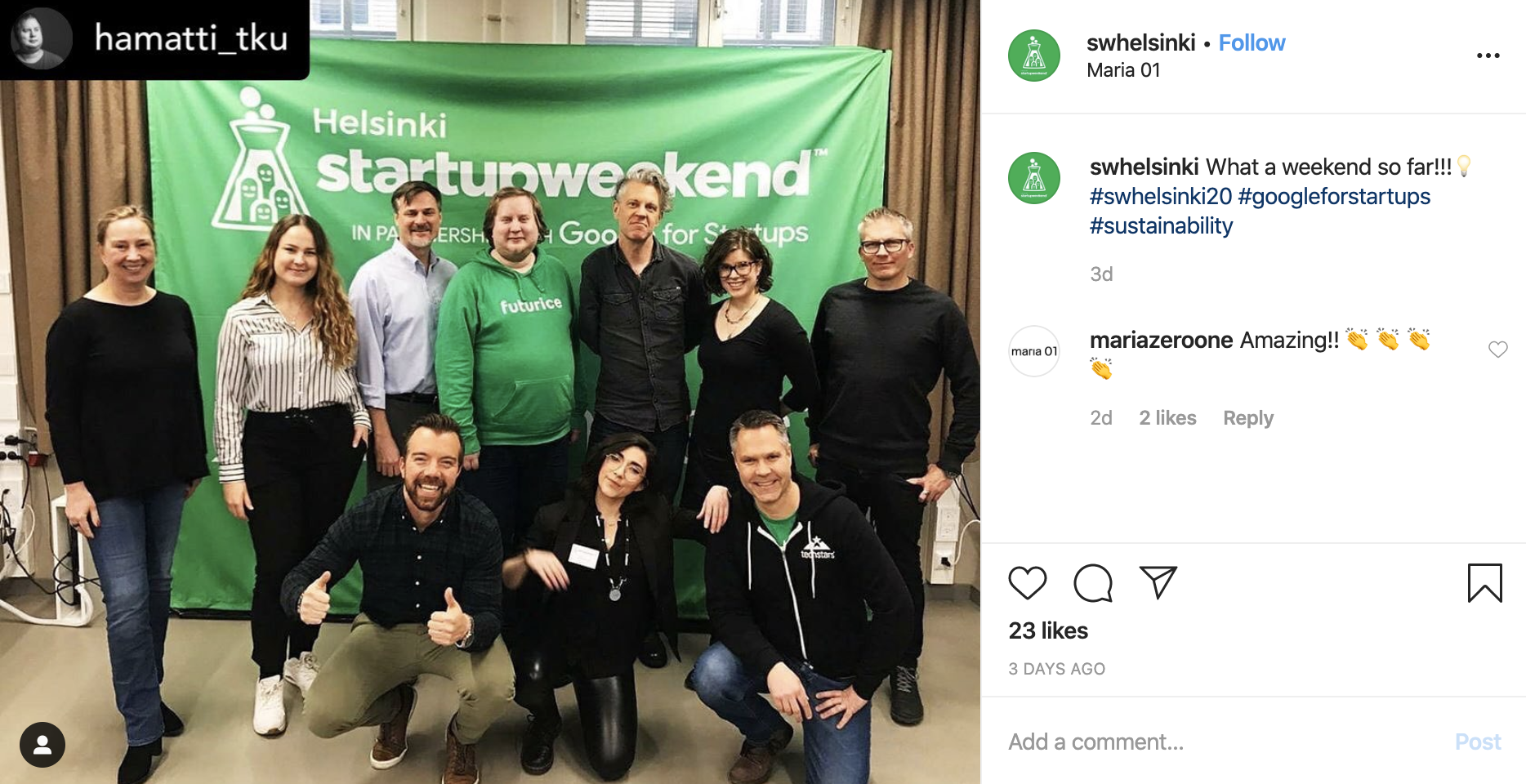 We got lots of insight and tough sparring questions from the mentors that accelerated our progress during the weekend. They helped us focus on the right challenges.
Discussing with the mentors also forced us to try to convey our ideas, so we immediately found out which parts of our concept we were able to communicate and which corners needed more thought and clarification.
All in all, big thanks for the wonderful mentors who helped us: Dale Eliason, Gerda Verbickaite, Juhis Santala, Marc Dillon and Mikko Petäjä!
In this part I want to thank also the weekend's experienced facilitator, Jernej (Jay) Dekleva! He really knew how to guide us throughout the whole process.
Special mention: our pitching coach
On Sunday morning, we got a short pitching coaching from Marc Dillon. I was blown away by the sheer professionalism and polish of his delivery.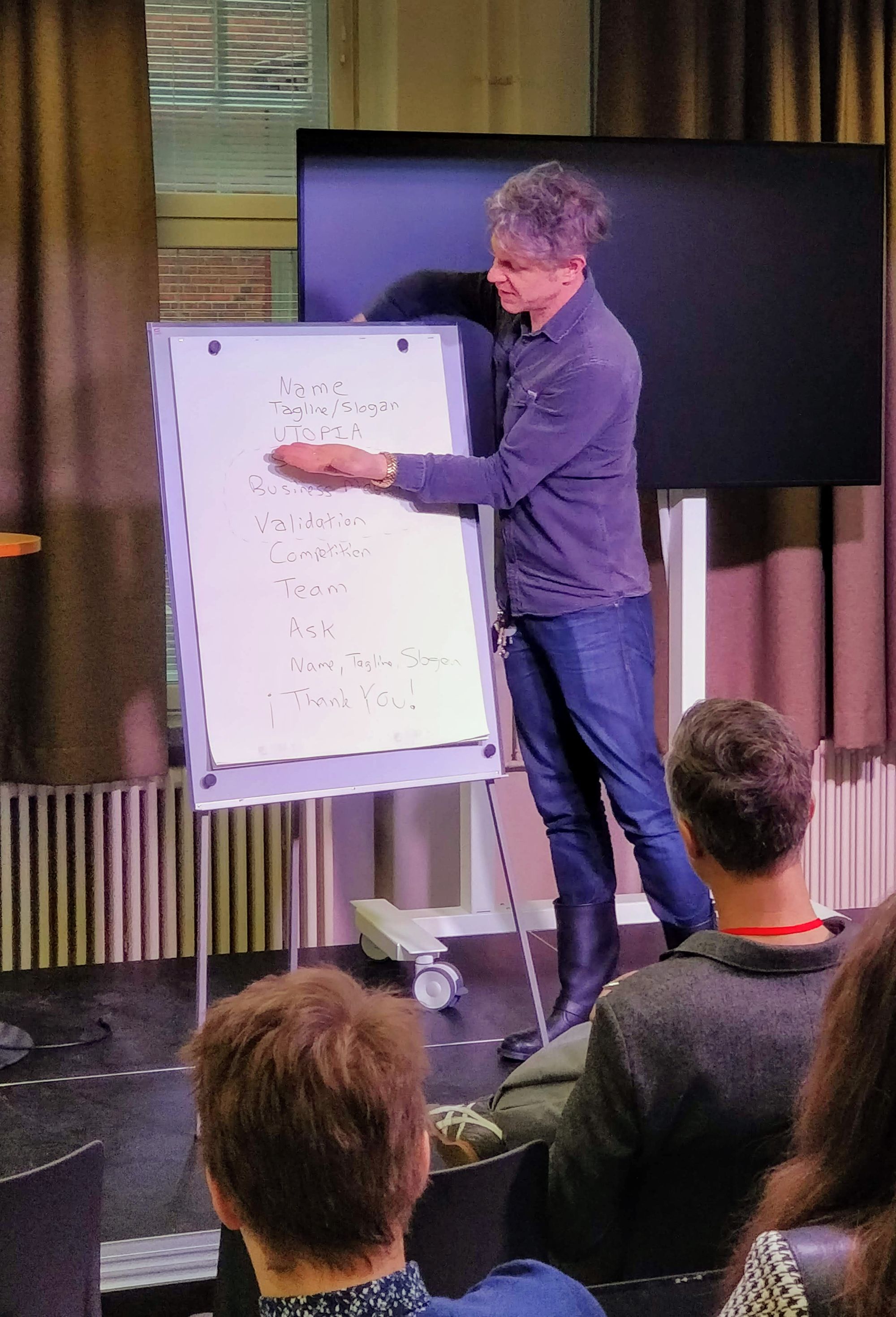 It took less than 15 minutes for him to help us learn a tried-and-tested pitching formula and to give actionable tips on how to deliver it with style and consideration for the jury.
There is no other way to put it: I admire and look up to that kind of skill. I have no doubt that behind it, there is years of practice and learning.
Side-note: the food was just right, too
I cannot leave out a mention of the food served during the event. The food reflected the sustainability theme of the weekend: it was mainly vegetarian or vegan, local and raw. And the caterer responsible was Zestii.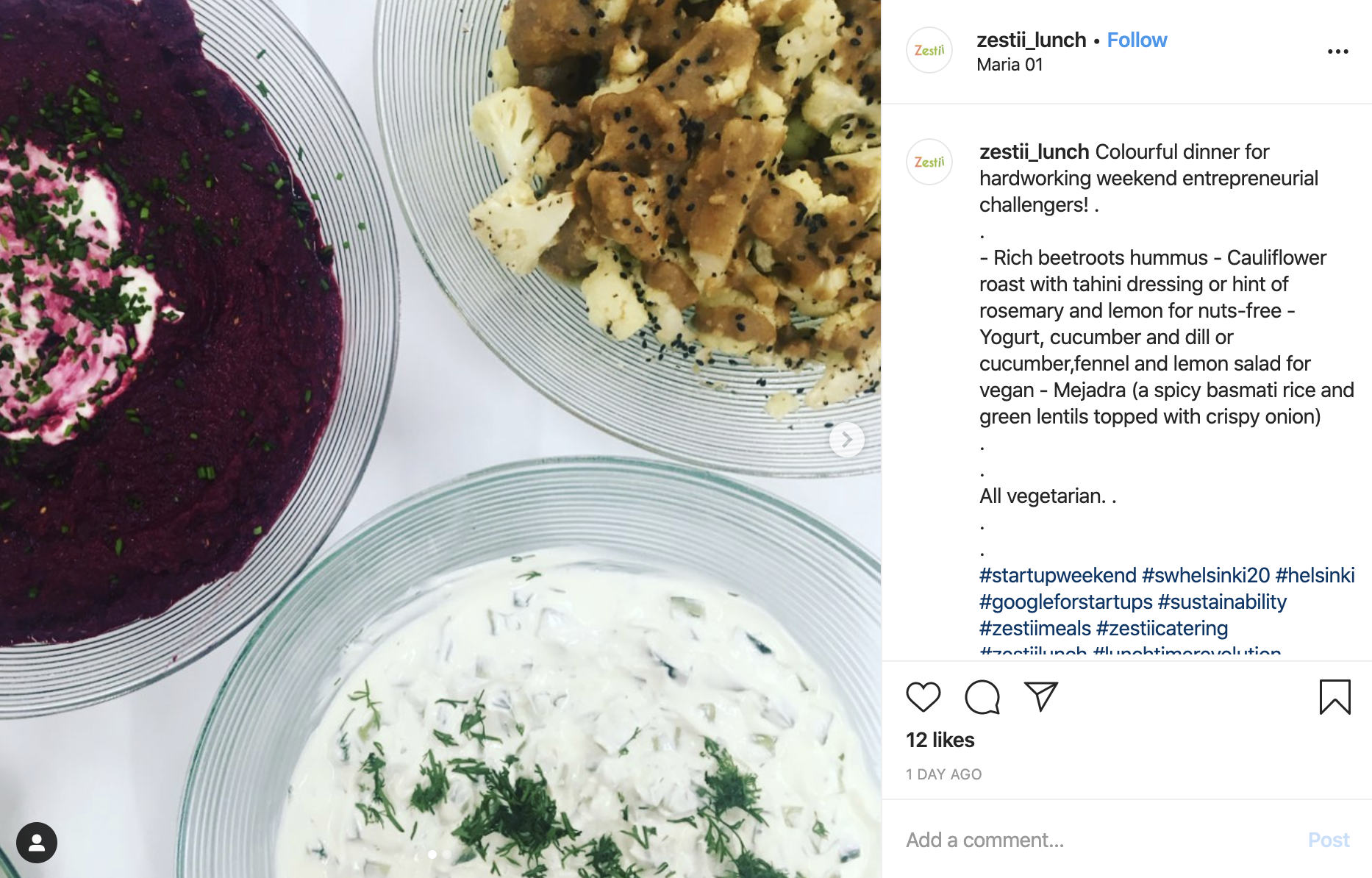 Even though the quality of taste varied a bit from meal to meal, on the whole I found it excellent, especially for the price of admission of the event. And the nutritional profile of the meals was also perfect for the activity: I did not feel stuffed after meals, and did not crash on low blood sugar even just before the next meal.
To all the teams: Respect!
I've given a lot of compliments to my team. I have to say that how our team did was not an exception but a trend of the whole weekend in all the teams.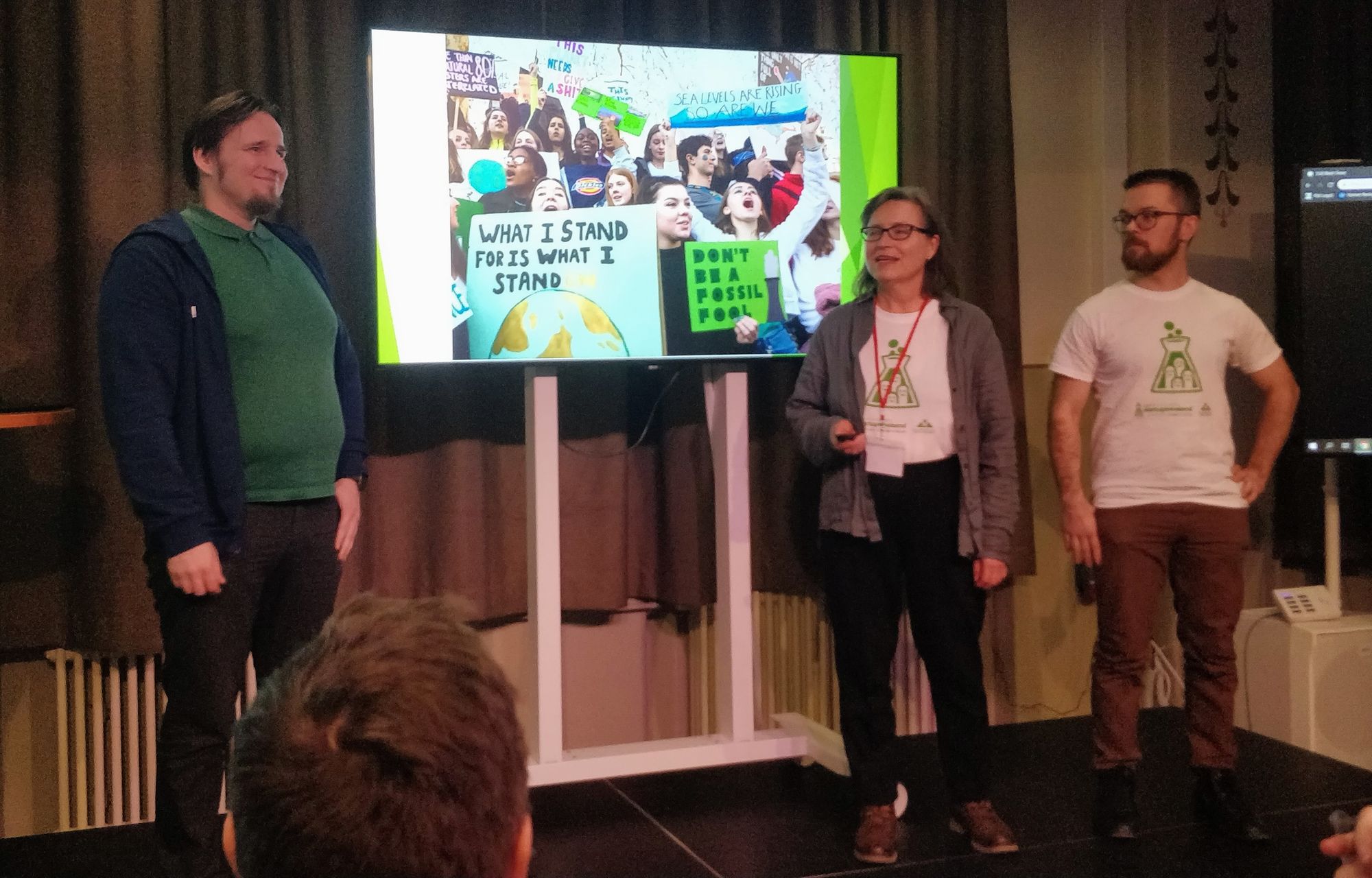 I remember whispering with people sitting next to me after each pitch, commenting how good it was. And they were! I could see and hear the progress made over the weekend from practically every team's pitch.
Maybe the one exception was the winning pitch, of which I remain unsure of how much it developed during the weekend, and how much of its unquestionable awesomeness was based on earlier work by the founder.
Community Spirit, Volunteer Work
Startup Weekends are true community events: the registration prices are driven as low as possible and people pitch in with volunteer work in many ways.
The most visible volunteer work was carried out impeccably by the event volunteers. They were present throughout the weekend and held the space to allow us, the participants, to concentrate on the work itself.
But in addition to that, as I understand it, for the mentors and the jury members, this was also a way to give back to the community. I really appreciate that these people with such experience and skills spend most of their weekend making this event even better for us participants.
This kind of community spirit forms a platform to grow strong trust-based relationships on. When we see in concrete ways how each of us is willing to pitch in into such a community effort, we start to think of each other in a little bit more positive way. And that kind of a start to a relationship can go a long way.
So, thank you for creating the community spirit to the irreplaceable volunteers, the wise jury members and all the other participants who worked so hard during the weekend. A special mention to Simon Waygood, who gave our team the jury's feedback and also gave even more of his insights to us when we discussed afterwards.
Considerations
So I've praised practically every aspect of the event. Surely there is another side to this story?
Yes: I found the weekend EXHAUSTING!
The days were long (breakfast at 9:00, calling it a day on 9 (Friday) or 10 (Saturday)). The pace was relentless, and all the excitement led me to wake up way too early each morning (including the following Monday morning).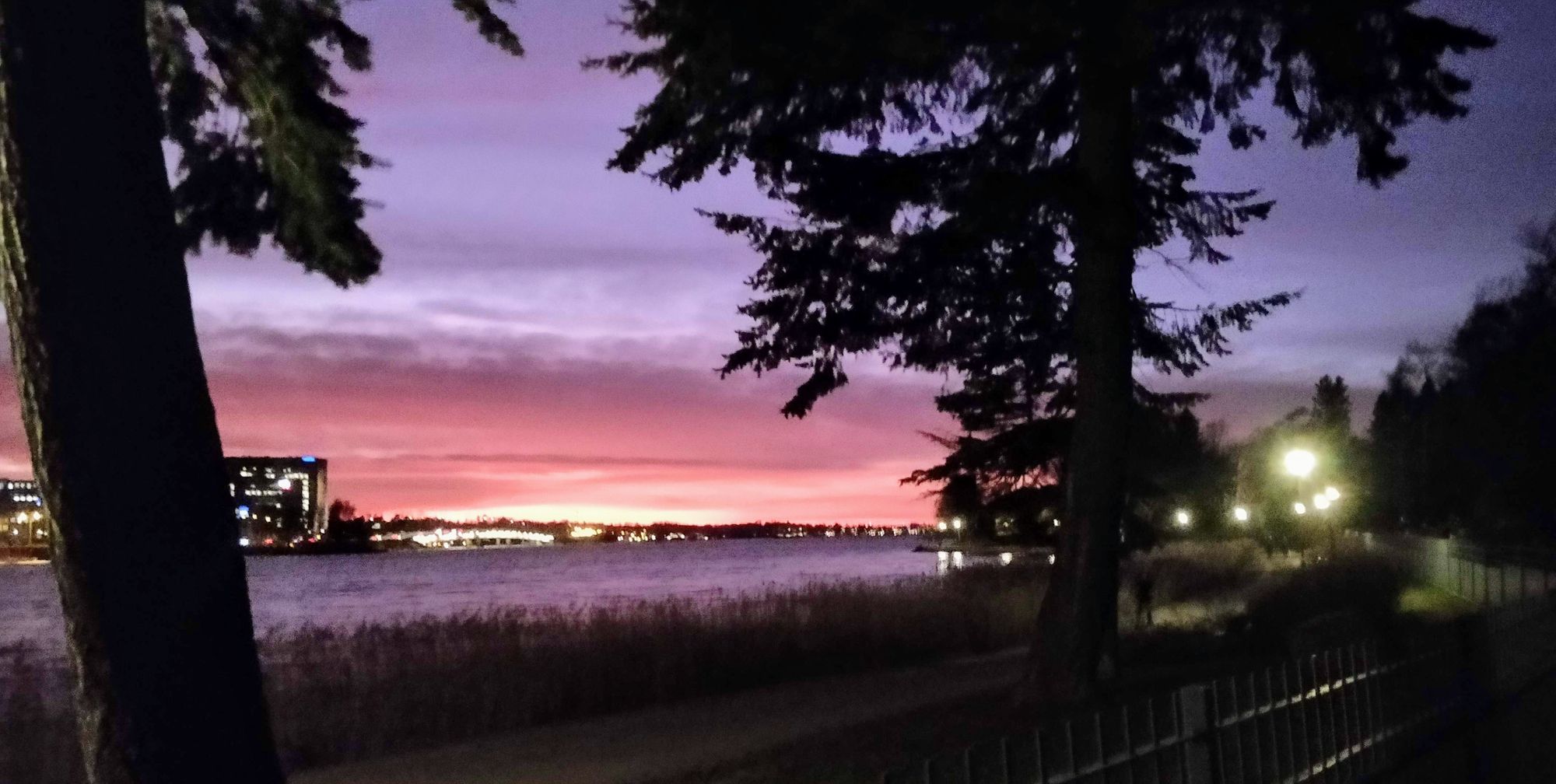 In short, it would not be sustainable for me to participate in startup weekends every other weekend. Or probably even multiple times in a quarter.
Conclusion: Was it worth it?
Yes, totally! As you might have guessed, I loved basically every aspect of Startup Weekend Helsinki. I learned a lot and met a lot of awesome people.
And even taking in consideration the considerable time and energy investment, I count myself getting so much more than I invested in.
I would totally recommend that you participate in one, too. Especially if creating new business is something you want to learn more about.
Side-note n:r 2: Startup Impact!
During breaks in the event, I managed to test out my Startup Impact! Conversation card game with other people.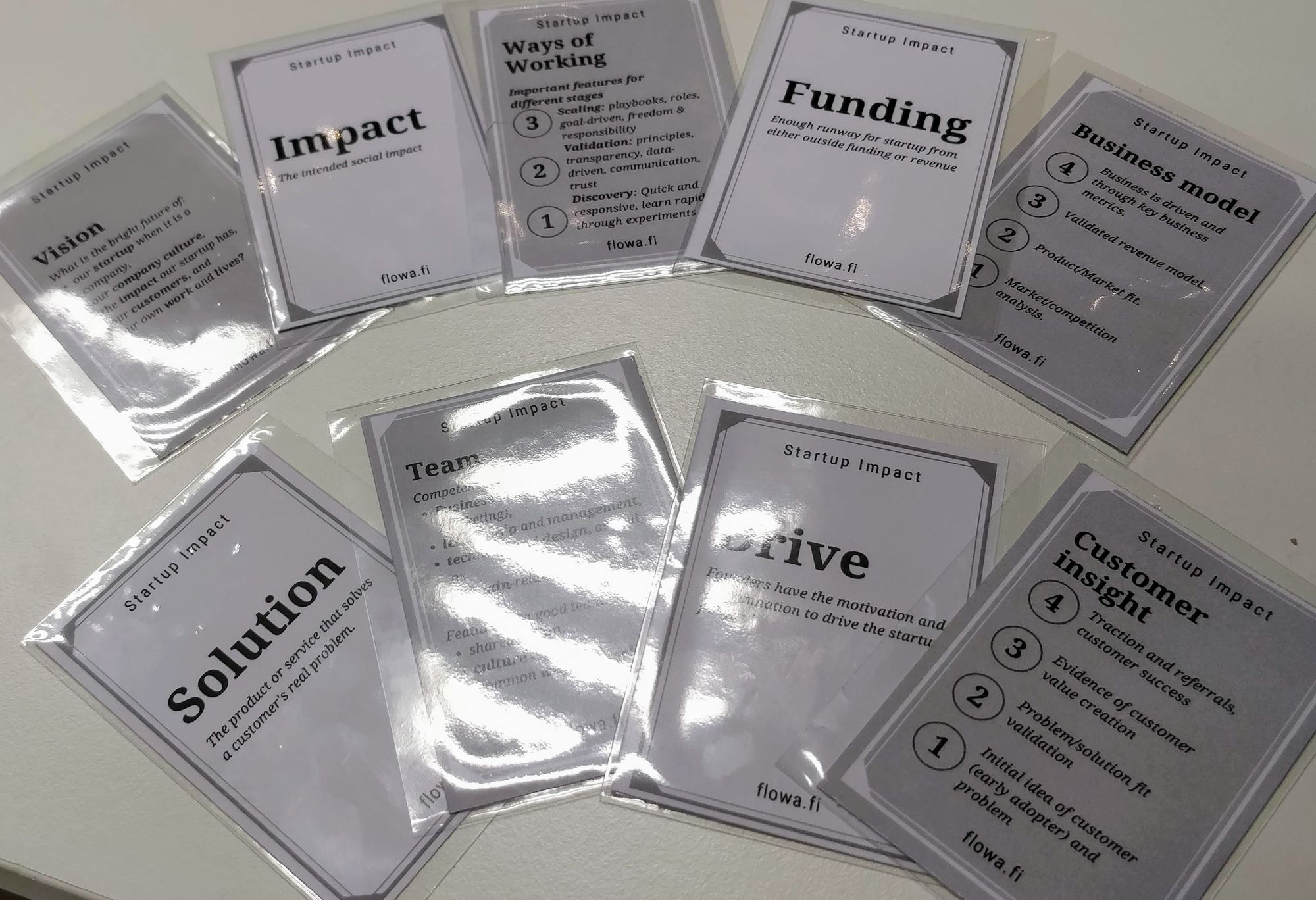 The game is about creating shared understanding of a startup's situation very rapidly in conversation loosely structured by the cards.
I was happy to get validation that people found the cards useful and that we got a good idea of where aa startup was in Investment Readiness Levels in even a three-minute conversation.
What Next?
After an experiment like this it is good to ask: then what?
First, I will keep future Startup Weekends in my radar. As our chosen path at Flowa is to pitch in to sustainability and Earth, I will pay attention to Sustainability Startup Weekends especially.
The future of Ilo?
I'm also spending the next few weeks thinking through the Ilo Assist concept and what would be the next steps to validate its business model. I will do that amidst all the other things I have committed to, so progress will be not as fast as during the weekend.
And I will be looking at all the new friends I made during the weekend.
What could we do together?
Maybe some of you could be the right partner to me and my fellows in our path to create impact?
Maybe some of you are looking for a partner to help you with building a prototype or a MVP to validate the most burning uncertainty related to a business model you are working on?
Or maybe you need a coach or an advisor to help align your ways of working to do more profitable business and create winning products?
In any case, or if you need something else, I'm happy to help. Please get in touch!